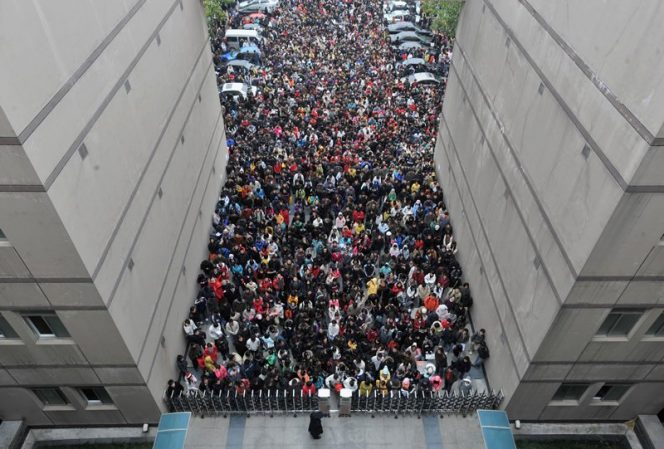 There's only one way to get into college in the People's Republic of China, and that's by passing the "gaokao," or college enterance exam. For two days in early June every year, China comes to a standstill as high school students who are about to graduate take their exams.
Construction work is halted near examination halls, so as not to disturb the students, and traffic is diverted. Ambulances are on call outsidein case of nervous collapses, and police cars patrol to keep the streets quiet. Radio talkshow hosts discuss the format and questions in painstaking detail, and when the results come out, the top scorers are feted nationally. A high or low mark determines life opportunities and earning potential. That score is the most important number of any Chinese child's life, the culmination of years of schooling, memorisation and constant stress.
Students taking an English exam in an exam hall at Dongguan University. English is one of three main areas of testing, along with math and Chinese.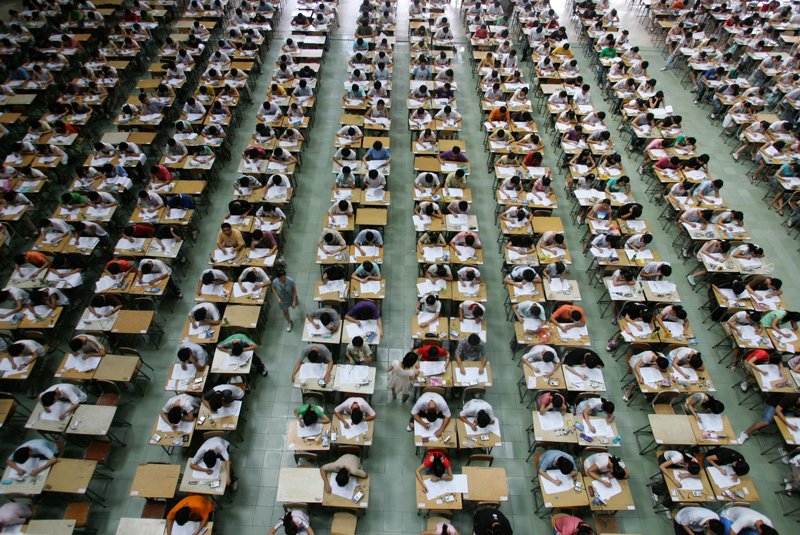 Art students draw sketches in Jianan, Shandong province.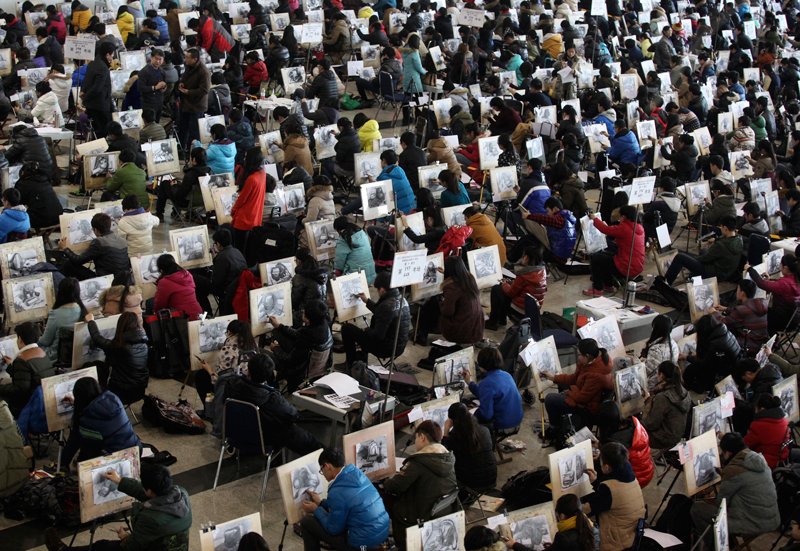 A mother waits outside in Hefei, Anhui province. In some parts of the country, authorities banned outdoor square dancing (a popular activity for elderly Chinese people) within 500 feet of testing buildings because of the loud music.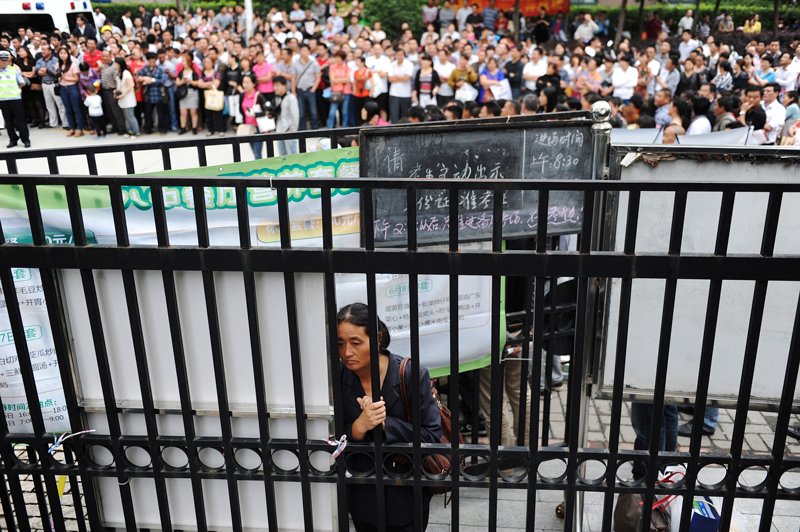 Students taking the bus to their exam in Liu'an, Anhui province. Thousands of family and friends crowded the streets in support as they left for the test.

Zheng Dong (left) studies in a hotel room in Shanghai near the site of his exam. In Beijing, over 1,700 taxi drivers offered to give free rides to students in town for the test.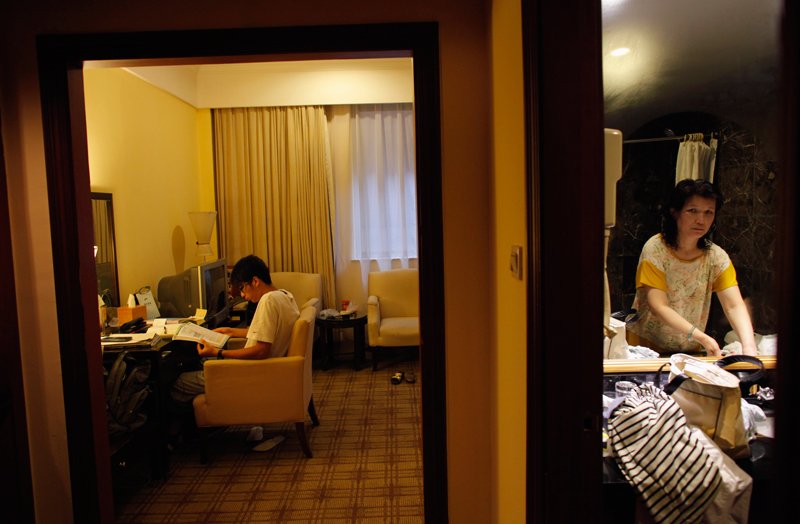 Invigilators monitor examinees in Suining, Sichuan in case of any sudden cheating. Leading up to gaokao, some high schools place security cameras in classrooms to monitor students in case of laziness.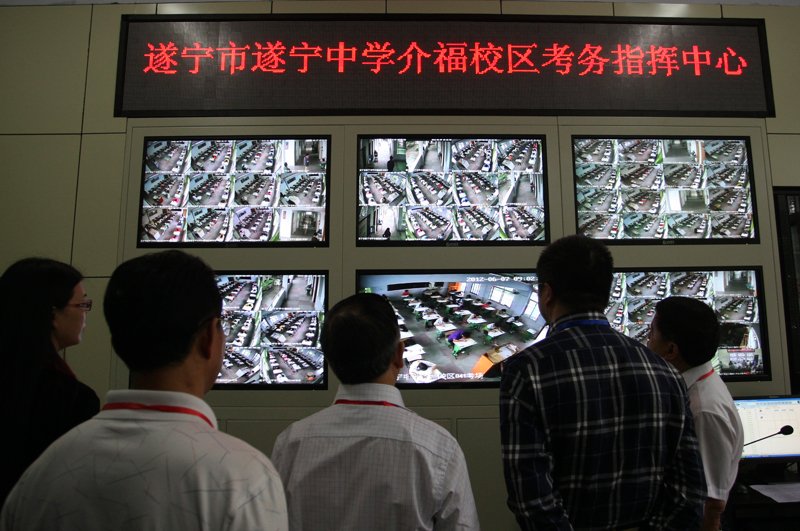 A student takes a quick study break. Some schools have been criticized for producing "robots" who study 15 hours per day for gaokao.
Students self-studying at night in Hefel, Anhui province. 9.8 million students took gaokao last year, compared to 1.8 million students who take the SAT.
Parents in Huaibei, Anhui wait for their children to finish the exam.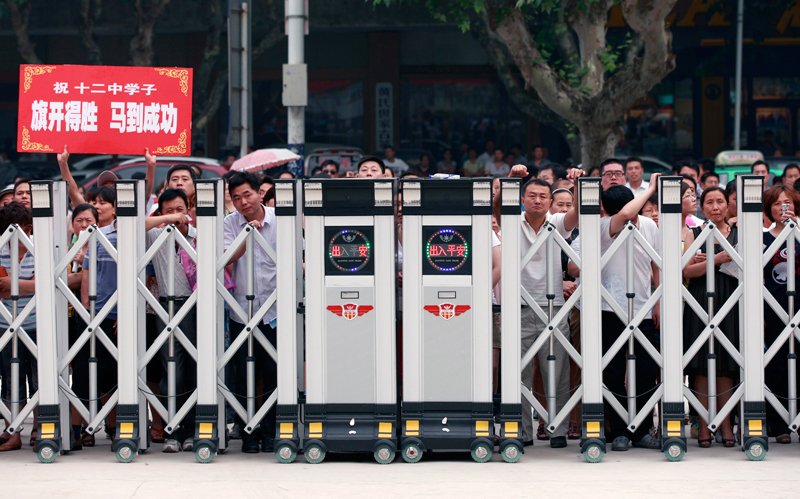 Leading up to the exam, students and teachers take part in pressure-release activities, like this trust-fall.
Students walk by Confucius after a rainy morning in Wuhan. Many temples were flooded in the weeks leading up to the test with parents praying to Confucius, China's great educator.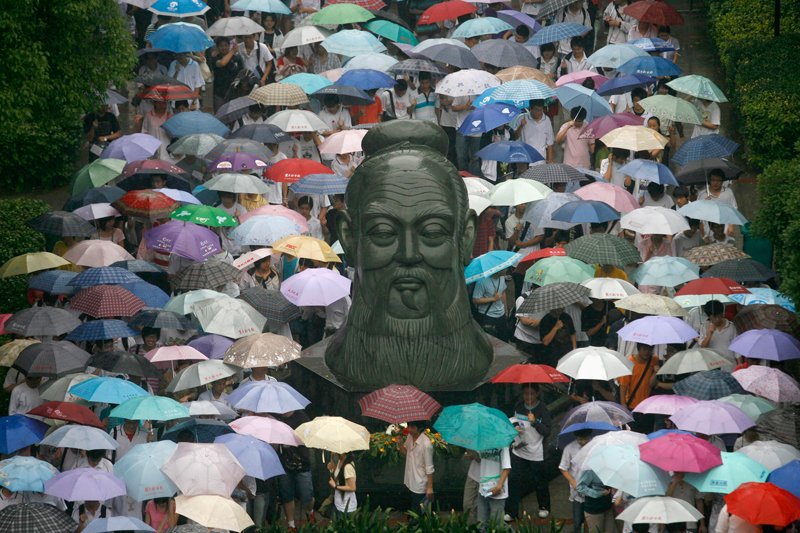 A security check in Shenyang, Lioning province. Authorities vowed to crack down on cheating during the exams last year.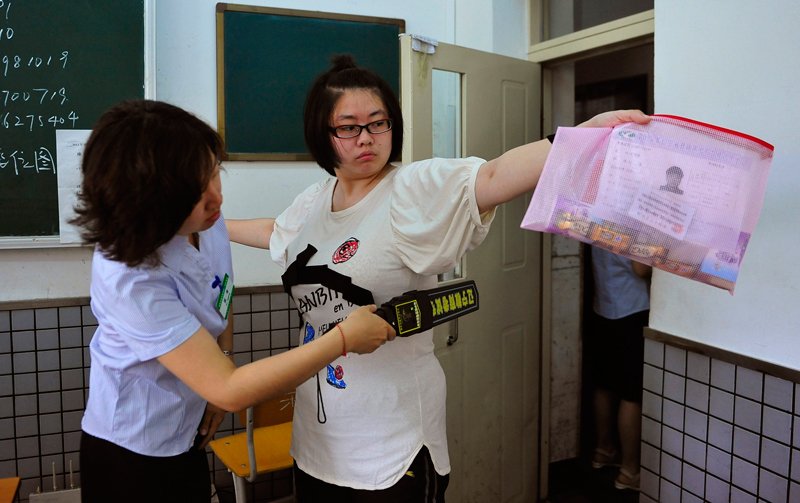 A hidden camera inside a pen (second from the left) and a receiver disguised as an eraser confiscated by police.
Glasses containing a hidden camera and a coin with a tiny receiver.
A more complex cheating contraption in Chengdu, Sichuan provence.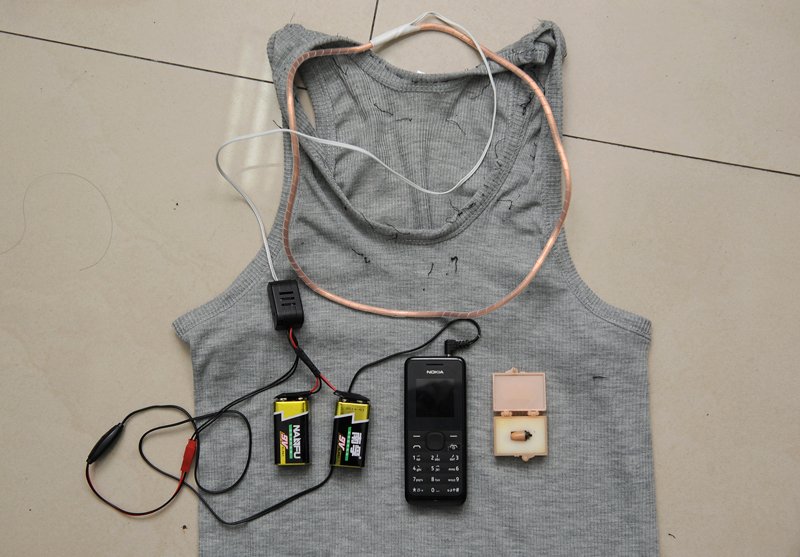 Confiscated cellphones and receivers. The Ministry of Education said students caught cheating would be stripped of enrollment qualifications for one to three years.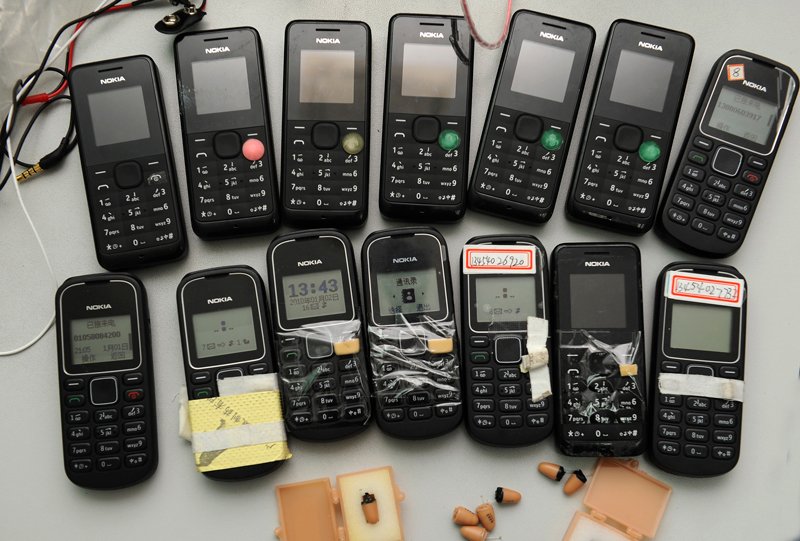 Police tried to contain students as they lined up to register for the exam.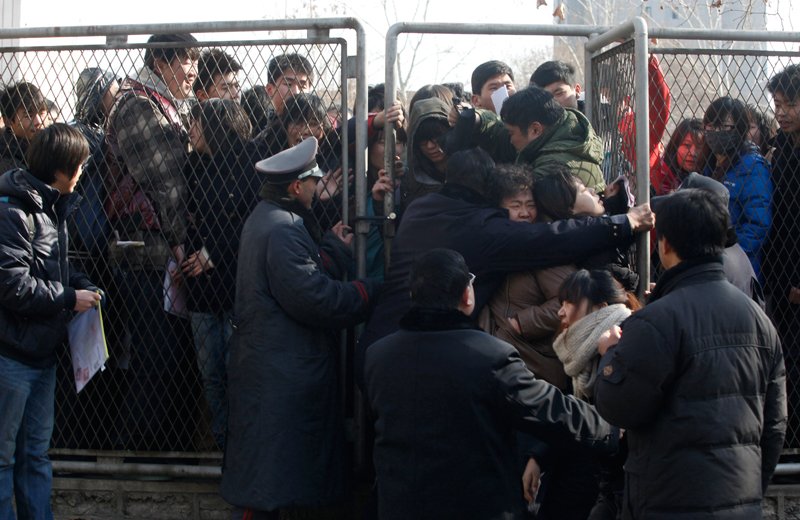 Parents in Shanghai waited for the exams to finish.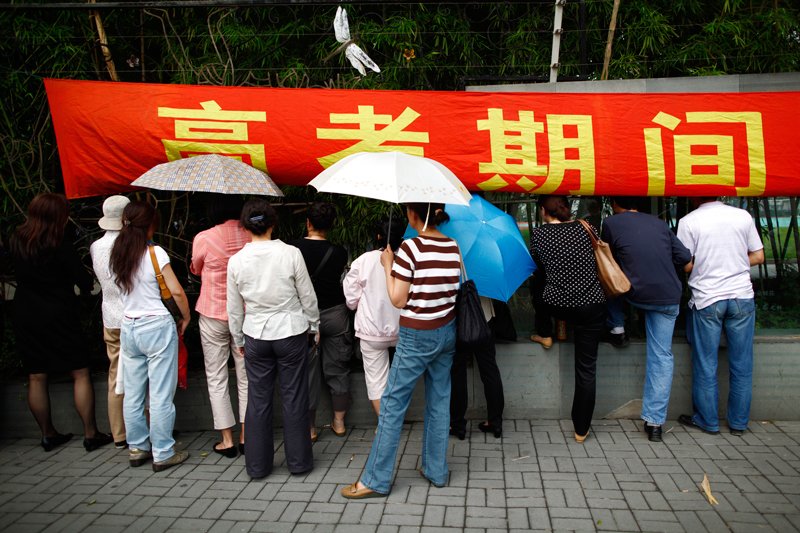 Applicants walking outside after finishing their first day of testing.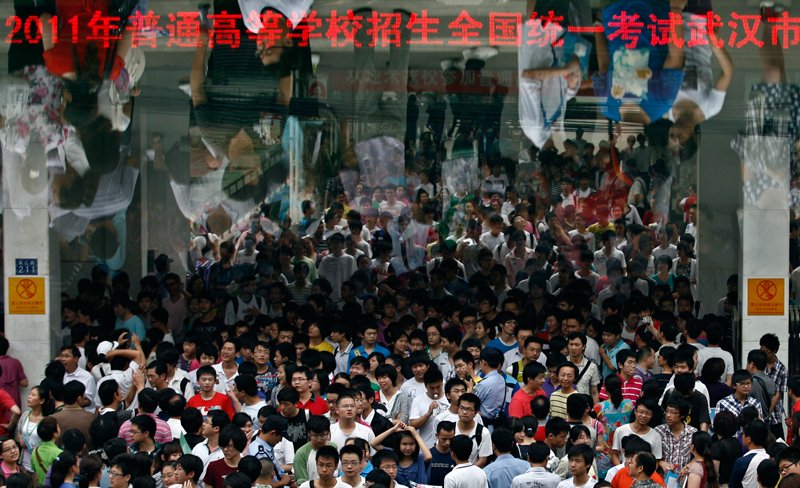 A teacher checking examinees names in Hefel. Because of the importance of one test, "gaokao-sweatshops" — high schools that prepare students exclusively for the test — have become increasingly common.
These students took oxygen while studying chemistry at a hospital in Suining.