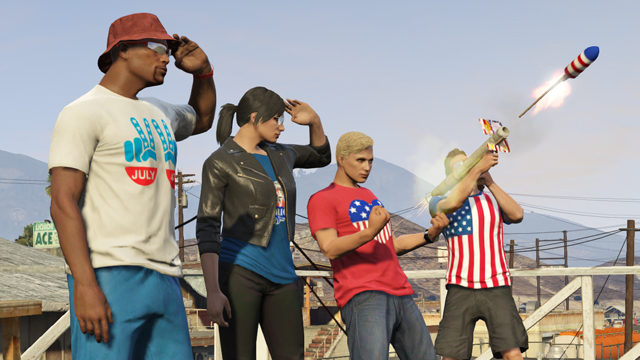 Rockstar has announced a slew of content and discounts for Grand Theft Auto 5 players on Xbox One, PS4, and PC. First up, all Independence Day content will be available at a discount off until next Monday, July 11.
"The chaotic outdoor gatherings full of inebriated acquaintances may be over," Rockstar revealed in one of its newswire posts, "but you can still continue the patriotic celebration all week long with 25% off all the original Independence Day Special items on PS4, Xbox One and PC – including the Liberator monster truck, the Sovereign motorcycle, the Musket, the Firework Rocket Launcher and its ammo, and all the Special patriotic gear including Hats, T-shirts and more."
Additionally, players can wage war in several new locations, and from behind the wheel of the brand-new Dewbauchee Seven-70, this week. Los Santos International Airport, the banks of the Alamo Sea, and the Port of Los Santos have been added to Power Play, a team-based battle mode.