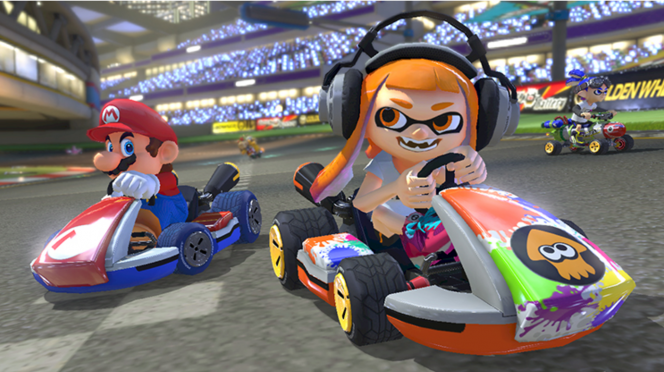 Just in time for MAR10 Day, Nintendo has given more details on what we can expect from Mario Kart 8 Deluxe when it releases on Nintendo Switch this April. MK8 Deluxe will include all of the characters, tracks, and carts from the Wii U game and DLC packs, and then some.
Mario Kart 8 adds five entirely new characters as well: Inkling Girl, Inkling Boy, King Boo, Dry Bones, and Bowser Jr. That brings the grand total to 42 racers in all. It will also bring back some items absent from Mario Kart 8 like the Boo and Feather. You'll also be able to hold two items at once again, and it's adding some new customization options like karts from Splatoon. It will support four-player split screen in docked mode, or two-players undocked. Online and LAN play can support up to 12 players.
The most significant addition is the return of a proper Battle Mode, with closed arenas instead of repurposing the regular tracks. Battle Modes include classics like Balloon Battle, Bob-omb Blast, Coin Runners, and Shine Thief. A new mode, Renegade Roundup, has one team trying to capture the other and put them in jail. The hunted team can break their friends out by hitting a special button under the cell.
Eurogamer also reports that you can unlock a Gold Mario character for finishing the hardest difficulty, an apparent revelation of a new Japanese trailer.
Mario Kart 8 Deluxe is coming April 28, for $59.99. A Joy-Con Wheel accessory will be sold separately at $14.99.