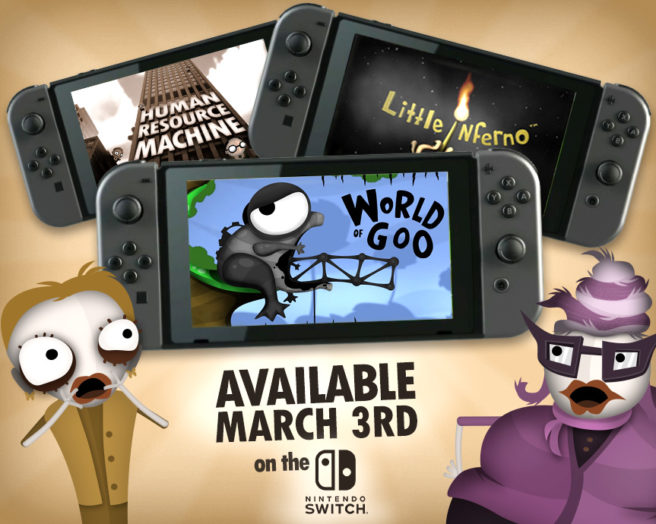 The Nintendo Switch eShop is getting four more titles tomorrow, March 17. Though the console launched with a meager library, the injection of Neo-Geo ports and several new indie titles has expanded it considerably in the two weeks since the Switch's release. Tomorrow Corporation's games, Human Resource Machine, Little Inferno, and World of Goo, which were rumored to be Switch launch titles, and The Binding of Issac: Afterbirth+ are making it into the eShop.
Nintendo Switch eShop Lineup for March 17
The Binding of Issac: Afterbirth+
This title is a shoot-'em-up with randomly generated maps that provide a different experience each time you play the game. The Binding of Issac: Afterbirth+ includes all expansions for the game up to this point.
Human Resource Machine
This puzzle game has you replicating simple computer instructions in the form of office work. Not only are the increasingly challenging logic puzzles entertaining. Human Resource Machine can also spark interest in programming, and it's a fun way to exercise your brain on-the-go.
Little Inferno
This adventure game has you burning your possessions for warmth and enjoyment. The entirety of Little Inferno takes place in front of a fireplace, but somehow the combination of dark humor and the wonder of what's actually happening in this world keep you burning random objects for hours.
World of Goo
This physics-based puzzle game has you solving puzzles using the numerous Goo Balls inhabiting the World of Goo.
All the above titles will be available on the Nintendo Switch eShop starting tomorrow. Pricing info isn't available yet, but I would expect these games to be in the $10-20 range.